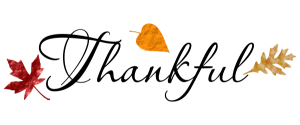 On this Thanksgiving, as I count my many blessing, I'm especially grateful for:
* The Lord – As we all know, everything good comes from Him.
* My sister, Jackie  – The greatest assistant in the world. The blog would never be the same without her many contributions.
* My wonderful man – Hungry Bear, you're the best.
* My cat, Pumpkin – A crazy critter that makes me laugh daily.
* Snow Plows – 7 inches of heavy, wet stuff are in my yard right now.
* Turkey & trimmings – I'm thankful to be well-fed, when so many in this world don't have access to adequate nutrition.
* Coupons – Black Friday shopping, as much as I want, for pennies.
* America – The greatest country ever devised! Freedom for all, always. God bless this great nation.
And last, but never least, I am so thankful for my readers! Each and everyone one of you that reads this blog, comments, enters giveaways, or contributes in any way is an integral part of The Jewish Lady community. You bless my life every single day!
I wish each of you and your families a happy, healthy Thanksgiving.