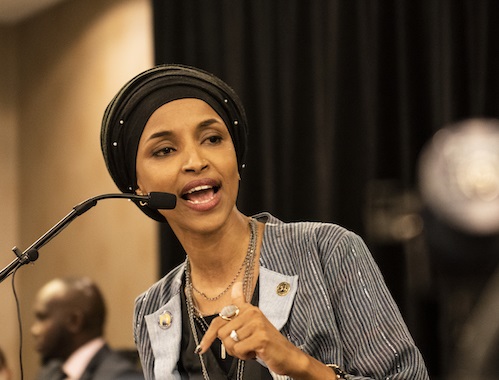 A newly-elected Congresswoman from Minnesota, Ilhan Omar, has been exposed for being a two-faced liar.
During the campaign, she met with a Jewish audience at a Minneapolis temple, claiming that BDS "stops the dialogue" and is "counteractive." After being elected, she changed her tune completely, stating that she "believes in and supports the BDS movement, and has fought to make sure people's right to support it isn't criminalized."
This is the worst sort of fraud that can exist. BDS, which stands for Boycott, Divest, and Sanction, is a policy specifically designed to target Israel and bankrupt the country. Only the worst type of anti-Semites support it.
Of course, Congresswoman Omar is a fanatical Somali Muslim who has never been a friend of Israel or the Jewish community. In 2012, she famously tweeted that "Israel hypnotized the world" and it engages in "evil doing."
In addition to hating Israel, she has nothing but criticism for America, the country which was willing to accept her as a refugee. She has denounced Capitalism, Democracy, and the American way of life, and is pushing for a radical agenda that promotes Socialism.
It's hard to believe such an unqualified, unlikable person could ever be elected. What a tragedy for the good people of Minnesota, that they fell for her lies. Just sickening!