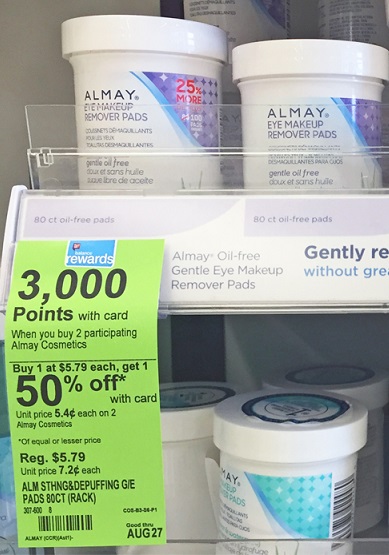 Welcome to another edition of Super Savings Saturday!
Can you believe that August—and summer—is nearly over? Gosh, it seems like yesterday was Memorial Day and now it's almost Labor Day! While I have enjoyed fun times of swimming, gardening, beach play, and wearing white jeans for months on end, there is one thing I'm glad to see go: the terrible heat and humidity! Here in New England, we had 19 days of 90 degrees which is unheard of. I'm really looking forward to fall's cooler temps.
As for sale shopping, this week might've set a record…for least number of stores and things purchased! I went only to Walgreens. (That's twice in two weeks. Maybe it's no longer my worst store?)
Walgreens:
4 Almay eye makeup remover pads, sale price $5.79 plus 50% off. I used 2 $5.00/2 manufacturer's coupons. Total: $7.38 plus $6.00 Reward points. (So excited to snag these. Now I'm stocked up for at least 6 months!)
Other items on my list were $0.89 paper plates, $1.49 peanut butter, $4.50 Scott toilet paper, and clearance glue sticks. NONE of them were in stock. I did get rain checks, but it's still frustrating. After 8 years of couponing, I've learned to not worry about it. Deals are hit or miss, but another one can pop up immediately.
Did you use any coupons? Find anything free? Share/link in the comments.