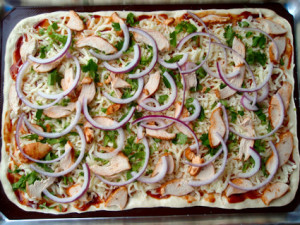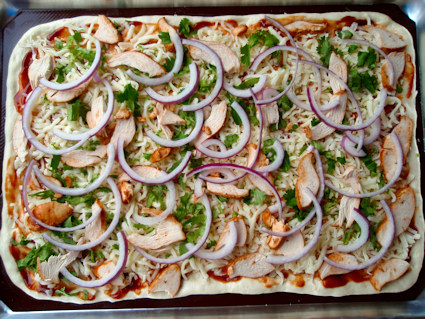 Everyone in my family is a huge pizza lover. There's always an emergency frozen one—or three!—on hand; we get delivery sometimes, and on occasion, I make it from scratch. Typically, it will be tomato sauce and cheese with a veggie or two…you know, basic and boring, but always delicious.
Then I found a copycat recipe that recreated the famous California Pizza Kitchen's BBQ Chicken thin-crust version. It looked so good, I had to try it! The ingredients may seem a little weird (cilantro mixed with BBQ sauce?!), but the final product is very tasty. I also love the bright, contrasting colors.
Do know that this pizza has both chicken and cheese which is obviously not kosher. If you do keep kosher, just omit the meat.
To make BBQ chicken pizza, you will need:
Raw dough (Can be scratch, of course, but to save time I bought prepared dough.)
2-3 cups of cooked, shredded chicken
4 cups mozzarella cheese
1 small red onion, thinly sliced
3/4 cup BBQ sauce
1/2 cup chopped cilantro
Divide the pizza dough in half and roll onto 2 buttered baking sheets (I use 11×15-inch). Remember that it should be thin. Spread sauce over dough, then add the other toppings. Bake in a 450 degree oven for approximately 15 minutes.
Super simple and fast, right? To round out the meal, I also served salad and fresh fruit for dessert. The verdict: high score from the adults, so-so with little ones. I would call this more of a grown-up pizza generally, which is good to keep in mind if you're making it for a crowd.