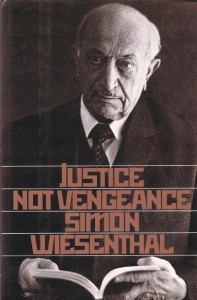 Millions of words have been written about the Holocaust, but none are more important than those authored by Simon Wiesenthal in Justice, Not Vengeance.
Nicknamed "The Nazi Hunter," Wiesenthal was a former architect and Concentration Camp survivor turned detective. From the tail end of WWII to his death in 2005, Wiesenthal devoted his life to finding Nazi murderers and bringing them to justice.
A true believe in the judicial system, his aim was always to publically expose, prosecute, and convict these monsters. Not once did he advocate vigilante justice, even though both he and his wife had suffered in unimaginable ways—losing their entire families to Hitler's death machine.
It would have been easy for the Wiesenthals to emigrate to America or Israel, yet they chose to remain in Austria, unable to "move on" and unwilling to "let go," as so many seemingly well-intentioned people advised. In an incredibly brave and single-minded fashion, their only concern was to right the wrongs committed against the Jewish People. (Cyla Wiesenthal was not a public figure like her husband, but her role should never be underestimated. She was an amazing Jewish Lady, and will always be remembered as such!)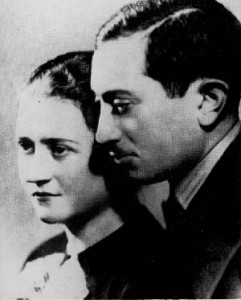 Justice, Not Vengeance is a detailed account of this dedication, covering his role in capturing Adolph Eichmann, Franz Stangel, Hermine Braunsteiner, and many others; plus, his unsuccessful attempts to locate "Doctor of Death" Josef Mengele.
There is some dispute over the Eichmann case; I'm not sure how accurate it is. Regardless, he did have some part, no matter how small and quite frankly, it detracts from the overall importance.
Wiesenthal was a prolific author of nine exceptionally good books, including Sails of Hope (where he explored some interesting theories on Christopher Columbus) and The Sunflower, an honest and introspective work on the limitations of forgiveness. His most famous book is probably The Murders Among Us, an autobiography that was given the Hollywood treatment in a movie starring Ben Kingsley.
Due to a lifetime of selfless labor, Wiesenthal was gifted with a center named in his honor. The Simon Wiesenthal Center was founded in 1977 and is located in Los Angeles. I truly believe everyone should visit if they are ever in California. The Center continues to do critical work in the areas of Holocaust remembrance and education and in combatting worldwide anti-Semitism.
Justice, Not Vengeance is not an easy read, but it is a vitally important one! The subject matter is dark, harsh, and truly unreal—especially when we realize that these atrocities happened not so long ago and very well could happen again if the human race ever chooses to forget…