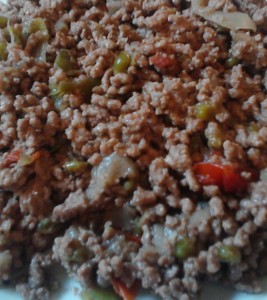 The Heat Wave is back on here in New England!
Whenever the weather channel predicts high temperatures coupled with humidity, I like to prepare in advance by bulk cooking, especially meat. (Sometimes this is also called Freezer cooking, but I never freeze cooked meat. After it's been frozen, cooked, and then re-thawed, it's usually dry. Yuck!)
On Monday evening, I pulled out some free ground beef and got to work, cooking enough to last for several meals. This not only saves time, but also money—using the oven/stove once, washing the dishes once, chopping, etc.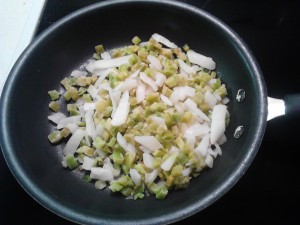 When bulk cooking, it helps to make a meat that's extremely versatile, like this recipe for Spicy Ground Beef. To bulk cook meat, I simply brown ground beef on the stove, with garlic, onions and peppers. (I'm still trying to use up all the Bird's Eye freebies!) Salt is a must, and I added a lone tomato, too, because it was in the kitchen. If you need to stretch it, some black beans will do wonders!
Spicy Ground Beef makes a great base for many other meals. Try any of these:
* Taco Salad
* Chili
* Sloppy Joes
* Burritos
* Pot Pies
* Nachos
* Sliders
* Filling for Stuffed Cabbage
* Stuffed Peppers
* Goulash
* Mexican Lasagna
* Dirty Rice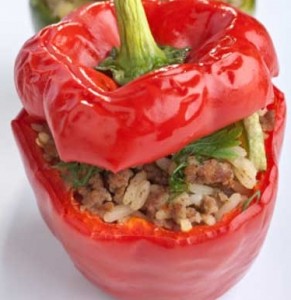 I love having a fridge full of cooked food, especially when I'm too tired to make dinner. By planning ahead, I have saved tons of dollars and calories that would've been wasted on fast food!