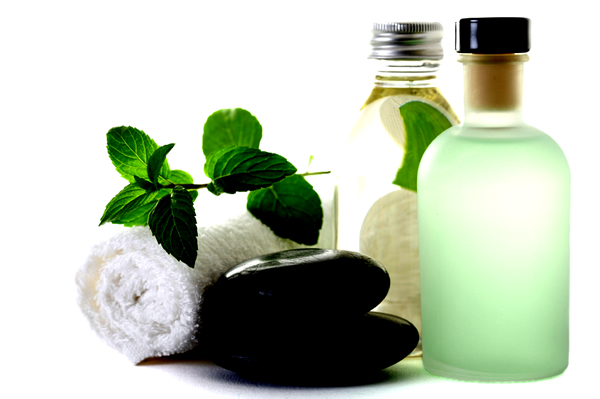 Creating beauty products at home is not only fun, it allows you to pick and choose the ingredients. For those with allergies or sensitive skin, this is very important. (I have both.) Here are 10 homemade beauty products that I've successfully made in my own kitchen—no fancy items or complicated directions. All of these products are gentle, safe, and actually work.
1. Leave-in Conditioner
Add a small spoonful or squirt of regular conditioner to a fine mist spray bottle and fill 3/4 full with water. Shake well. This is a great way to use up trial sized samples. Works well on fine hair and is great for kids.
2. Body Scrubs
Can be made with brown sugar or kosher salt as the base. Fill a small jar 3/4 full and add olive oil or coconut, stirring to incorporate. The mixture should be coarse, not drippy, so go easy on the oil. For an extra treat, add 1 Tsp. of vanilla. This can be used anywhere from the neck down.
3. Body Balm
Melt 1 cup of coconut oil until liquid. Add 1/2 Tsp of peppermint oil. Pour into a jar and allow to become solid again. Use at night on lips, cuticles, feet, elbows, and knees.
4. Toner
Combine two parts witch hazel with one part distilled water. Add a few drops of tea tree oil. Store in the fridge for an extra cooling sensation.
5. Masks
There are a million versions for every type of skin; one that uses honey is gentle enough for most folks. Simply combine 1 Tsp. of raw honey with 1 Tsp. of plain yogurt.
6. Clarifying Treatment
When hair looks and feels dull or weighed down, it's often caused by product residue. Mix a tiny bit of baking soda with shampoo in your hand, foam, and then vigorously scrub hair roots and let it rinse down.
7. Body Spray
Combine two parts rubbing alcohol with one part water in a spray bottle. Add 1/2 Tsp of olive oil and 1/2 Tsp essential oil. This is moisturizing and smells nice, but is not overpowering.
8. Aftershave
This one is for the fellas. My hubby loves it. Mix equal parts rubbing alcohol and aloe vera, then add a few drops of sandalwood oil.
9. Eye Makeup Remover
You'll need 1/4 cup jojoba oil and 2 vitamin E capsules. Pour oil into a dark bottle container. Puncture vitamin and squeeze in. Shake well to mix. Make sure it's tightly capped.
10. Deodorant
Anyone who is worried about aluminum or has itchy reactions to commercial products should try this one. Although not an antiperspirant, it does seem to absorb a lot of wetness, so it will be fine for anyone under normal conditions. (Not for running a marathon obviously, just general day-to-day life.)
Combine 6 Tbsp. coconut oil, 4 Tbsp. baking soda, and 4 Tbsp. cornstarch. Mix baking soda and cornstarch together in a medium sized bowl. Mash in coconut oil with a fork until well mixed. Store in small glass jar. I've heard some people put it into an old deodorant stick, too. My version is unscented. Essential oils can be used if preferred.
Do you enjoy making your own beauty products?