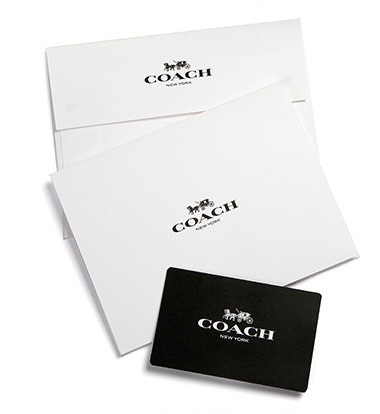 You guys, thank you so much for the giveaway suggestions. (I knew they'd be good, but some were totally unique and for items I never would've dreamed up on my own.) In addition to wanting gift cards, folks mentioned seasonal gifts, food, emergency kits, stuff for men, and stuff for kids.
Over the next few months, I plan to offer lots of different things, but this particular giveaway should be credited to a reader named Joni who suggested a purse.
After stopping by the Coach store today and browsing quite a while, I realized that not everyone has the same style, so rather than offer just one, I'm doing a gift card. If for some odd reason you don't like purses (seriously, not possible…), you can buy an umbrella, or some shoes, or whatever else strikes your fancy.
One other thing I'd like to clarify is the winner announcement. Because so many readers have said it's confusing, I am no longer allowing anyone to claim anonymously. Only first names, or first name and last initial if common, will be published. That's not an invasion of your privacy and makes it much easier for everyone else. I think 99% of you will agree. If you win, you will receive an email from me and your name will be posted after the prize is claimed. This will solve a lot of confusion going forward.
The $100.00 Coach gift card giveaway will be open thru April 14. Good luck!
Update on 4/15: The winner is Roberta Z. Mazel Tov!