Selecting the right outfit for High Holidays is something most Jewish ladies agonize over, especially if your temple has a reputation for being a total fashion parade. Personally, I feel better about myself when I'm dressed up, and I definitely want to look as good as the other ladies, which does require some effort and careful planning.
In the past, I have spent hundreds of dollars on special occasion clothes. Inevitably, they would be worn once and then sit in the back of the closet forever. Not only was this expensive, it also made me feel guilty for being wasteful and extravagant. (Sure, I could wear something I already own, but that's no fun.)
Last year, I experimented with clothing rentals, and it was a huge success. Now, I can get something new, wear it for a day, send it back, and do it all over again. Rent The Runway, my personal favorite, has so many dresses available, it's actually hard to choose. If I had to sort through everything, it would be impossible, so I filter, starting with Daytime dresses and hem/sleeve length.
I decided on two dresses, one for Rosh Hashanah and one for Yom Kippur, since I normally only attend services those two days.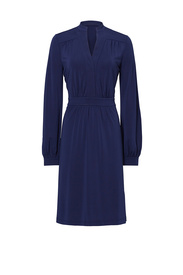 Rosh Hashanah: Valentina Tunic Dress by Tory Burch
Blue matte jersey, with long sleeves and a V-neckline. It has a full skirt, hidden side zipper and knee length hem. I really like that it's fitted at the waist to create the ideal hourglass shape, but not super tight. Rental price is only $60 for a $350 dress!
For accessories, I will be using gray pumps and a gray and navy bag that's already in my own collection.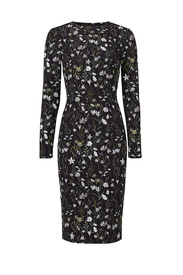 Yom Kippur: Prairie Floral Dress by Cynthia Rowley
Black floral printed crepe, with long sleeves and a crew neckline. It has a fitted silhouette with a hidden back zipper. Fully lined with a hemline that hits right below the knee. This one is a nice, modest choice that still looks stylish due to the fun print and excellent shape. Rental price is $65 for a $388 dress!
Accessories will be gold/pearl dangly earrings, black pumps, and a black bag.
To avoid catastrophe, Rent the Runway provides the option to select a 2nd size dress for FREE! (How is awesome is that?) I do read the suggestions in the fit guide, but we all know nothing is guaranteed. Having a backup is so worth it.
And, if it's your first order, you can receive 20% off with coupon code FIRST. Find your ideal style at Rent The Runway.
Have you picked out your High Holiday outfits yet? What will you be wearing?