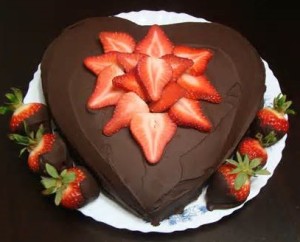 It's been said that we eat not just with our mouths, but also with our eyes. For me, that's definitely true! I find that even the most simple meal can be improved with a garnish. The obvious strategy is to place a few parsley sprigs on the plate (attractively arranged, with the main dish in the middle), but there are so many other foods that works just as well and don't take a lot of time or effort.
Unless it's a special meal like a birthday or a holiday, I don't want to pick up an expensive or obscure item that may spoil, so all of these suggestions use common ingredients.
Desserts: Ice cream, cakes (especially cheesecakes), and pies can be jazzed up with whipped cream, chocolate shavings, sliced berries and/or chopped nuts.
Mexican Food: Garnish with fresh cilantro, lime zest, or chopped green onions.
Garlic bread: Add chopped parsley (dried or fresh) or chives to the butter before baking.
Homemade Pizza: Sprinkle dried basil or Italian seasoning on top of homemade pizza before baking. After baking, sprinkle with crushed red pepper.
Salads: Finely shred some carrot or cheese to garnish a green salad. Black olives add a nice contrast. Fresh herbs are also gorgeous. I find that using a red onion rather than white or yellow makes for a more attractive presentation.
Coffee/Tea: Sprinkle with cinnamon.
Water: Mix berries, thinly sliced cucumber, or any type of citrus slices into plain water for refreshing drink.
Chicken Dishes: Sprinkle with parsley flakes, freshly chopped chives, freshly cracked pepper, or kosher salt.
Breads: Brush beaten egg over bread tops and sprinkle with sesame seeds, poppy seeds, sliced almonds, rolled oats, or wheat bran before baking.
Breakfast foods: Sprinkle waffles, French toast, lattes and even oatmeal with a pinch of powdered sugar.
Dairy meals: Butter and chocolate can be poured into decorative molds that make pretty shapes.
Serving tray: Line with heart greens like kale or fresh herbs like rosemary and sage.
Cheese Plates: Try adding red grapes or whole nuts.
For the truly creative, you can make flowers and animals out of fresh produce or use the rind to make a serving dish (think hollowed out watermelon or pineapple). My knife skills are not up to par, but I once attended a vegetable carving class on a cruise ship and it was incredible! Very special if you have the extra time/ability.