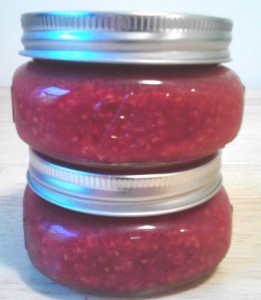 In an effort to use up all these $0.99 raspberries, I embarked on a jam making adventure! I've eaten plenty of jam and jelly in my life, but I've never actually made any.
To simplify things, I used a no-cook recipe for "freezer" jam (the whole boiling/sterilizing the jar part seemed like drudgery.) An easy one is found on the back of Ball's instant pectin packet.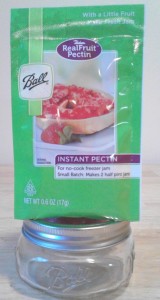 To make this jam, you will need:
*  1 2/3 cup fresh fruit  (I used raspberries, but you can substitute if needed).
*  1 packet of instant pectin
*  2/3 cup sugar  (Splenda can be substituted for low-sugar jam)
*  2 half pint jars
Finely crush the fruit and set aside. In a large bowl, mix the sugar and the pectin.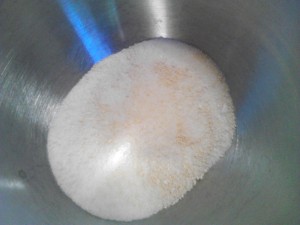 Add the crushed fruit to the sugar/pectin mixture and stir for 3 minutes. Spoon into the jars. Let stand for 30 minutes and dig in!
Here's what it looks like when set.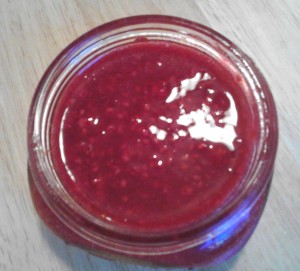 The process was easier than I expected and the taste was delicious! I would give it 5 stars for ease, but not price. I paid $0.97 for the pectin, $4.29 for 4 jars, and $1.98 for the fruit. (I had sugar on hand, but that would be an additional expense.)
Jam will keep 3 weeks in the fridge or up to a year in the freezer. I don't think it will spoil since the jars are so small. I loved this jam on English muffins served with eggs for an awesome breakfast. Hungry Bear concocted some weird sausage-jam-onion English muffin creation that look horrible to me, but he devoured!
On an unrelated, side note, anytime I see pectin it makes me think of the Anne Frank case, because Anne's father owned a pectin company. Anne's story, and the book and movie developed from her writing, was very moving for me as a youngster. I so wish Anne could be here today, enjoying life as she should! She was a beautiful soul, taken way before her time.
Isn't it funny how something as simple as jam can spark a reminder of the Holocaust? I guess this Jewish Lady sees things from a Judaic perspective.