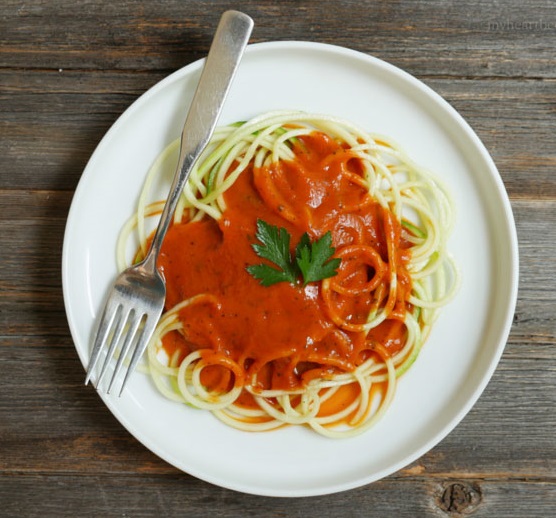 Confession: I am a noodle FANATIC! At least once a week—if not more—spaghetti is on the menu at my house for dinner. There's only one exception to the rule and that is during Passover.
I've blogged before about how I find Passover foods to be bland and boring. Most of the substitutions taste beyond bad. Instead of trying to "enjoy" what I'm restricted to, it's simpler to skip it. No bread, no baked goods, no pasta. Yes, it's a rough week, but I muddle through…
Then I was served something new in a friend's kitchen, Zoodles with tomato sauce, that changed my mind. Zucchini Noodles aka "Zoodles" are the first true pasta alternative that I've eaten and actually enjoyed. Does it taste like a flour noodle? No, obviously not, but it does look like one and it doesn't have a fake flavor that's gross. (The flavor, without sauce or spices, is actually neutral.)
I was inspired enough to buy a little machine and start "zoodling" a bunch of different veggies. Here's what I learned and what I like:
Easy to increase vegetable intake (especially for picky kids!)
Cheap
Gluten free
Wheat free
Low carb
Safe for Celiac/Diabetes
Nutritious
Unprocessed
Making zoodles at home costs a lot less than store-bought, but there is some (minimal) effort involved. The cheapest way, of course, is just to use a kitchen knife, but if you're looking to make them regularly, it can be worth investing in a gadget.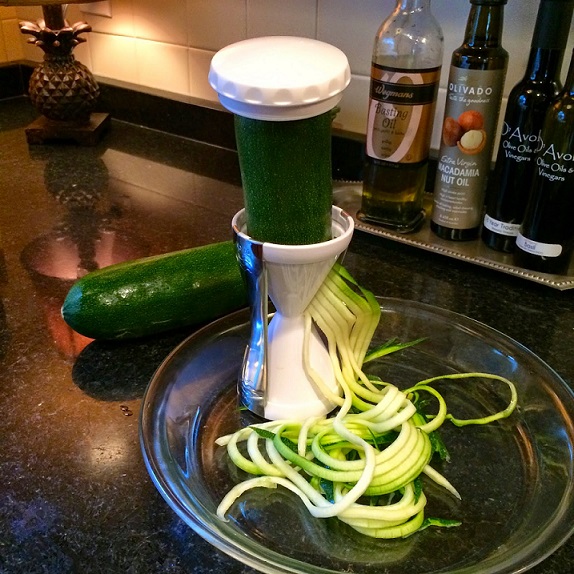 Zoodle makers come in electrical and manual options. One manual type has a hand crank and is stationary; another resembles a large pencil sharpener. I have the pencil sharpener type (similar to the one pictured above). Some elbow grease is required, but it's not unbearable. Admittedly, I don't make tons! Anyone who wants to be prolific (restaurant, party, etc.) should definitely go electric. Hands/wrists do get tired, after all.
Probably the most remarkable part of zoodle making is the large quantity produced. A single zucchini makes enough to fill a medium sized mixing bowl full of ribbons! Because the ribbons stretch to looooooong lengths, it's smart to cut them every so often while working (6-8 inches).
Don't like zucchini? Fear not, "zoodle" is kind of a generic term for a spiralized veggie, and any of these foods can be substituted:
Beets (red or golden)
Carrots
Radishes
Broccoli stems
Asparagus
Turnips
Parsnips
Butternut squash
Cucumber
Potato (White & Sweet)
While spiralized veggies are technically a substitute for pasta noodles, they can also be used as a stand-alone side dish or as a meal component. Some fun ideas are to use large strips to tie up food bundles, or to wrap around a kabob skewer.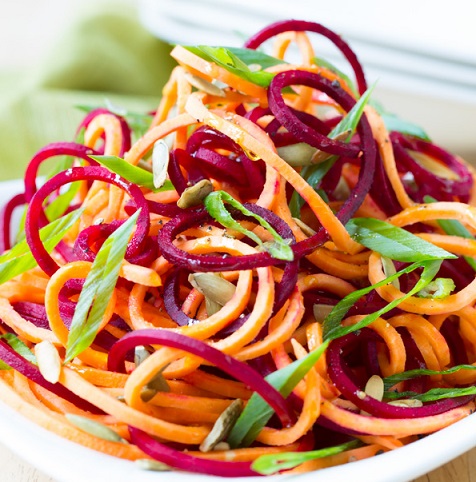 Flour pasta will always be my favorite, but zoodles are awesome when I'm dieting, during Passover, or want to add more veggies into a meal.
Have you tried zoodles? Have a good recipe? I'd love to hear about it?