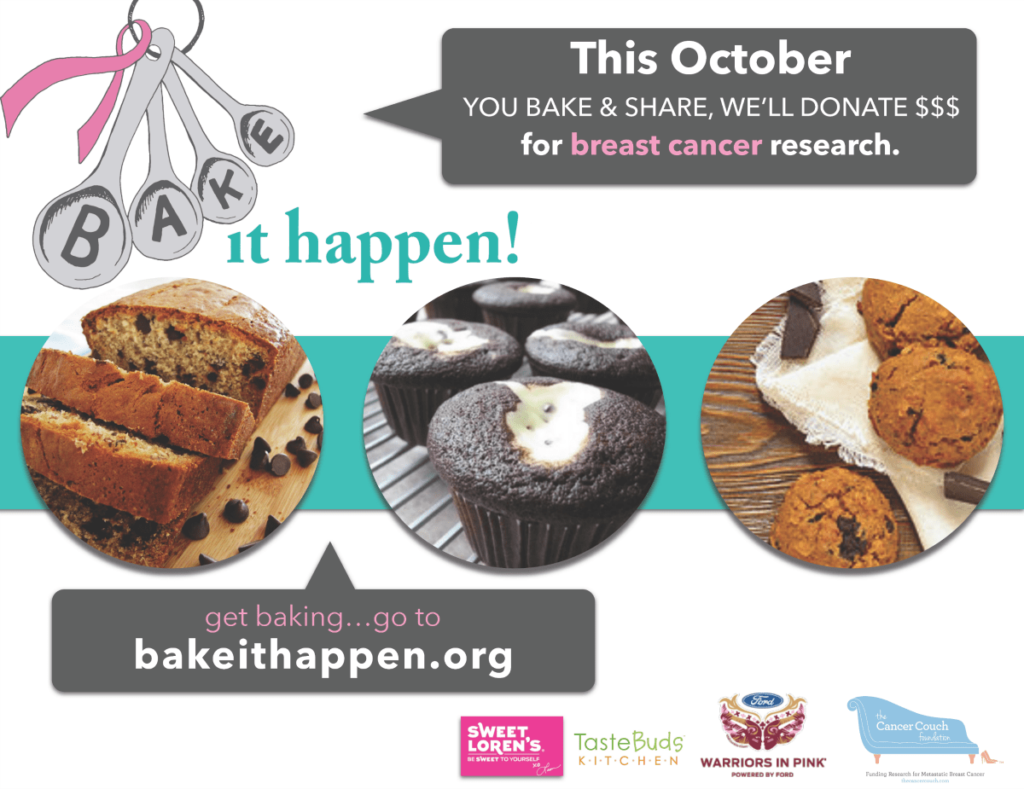 Finding out that someone you love has cancer is one of the worst experiences anyone can go through. That happened to me when my very best friend was diagnosed. Because we live on opposite coasts, I felt totally powerless to help her. I couldn't be there physically, but I was committed to offering whatever support I could—calls, text, research, etc.
All that web surfing introduced me to a lot of different charities that want to assist cancer patients and Bake It Happen is one of the most innovative. Started by two sisters whose mission is to find a cure for Metastatic Breast Cancer (MBC), the concept is really cool: simply baking and sharing recipes to raise awareness. While breast cancer in general receives a lot of attention, MBC is much lesser known and 41,000 folks die from it every year!
Now in its 5th year, Bake It Happen has partnered with The Cancer Couch Foundation,Taste Buds Kitchen, Sweet Loren's and Ford Warriors in Pink.
Bake It Happen has yummy recipes that you can bake and share. Not only does this increase exposure for the disease, but an anonymous donor has agreed to donate money for every share, with 100% of the funds raised from Bake it Happen going directly to The Cancer Couch Foundation.
After picking out and baking your favorite of the recipes, post it everywhere using the hashtag #BakeItHappen and their Instagram and Facebook accounts.
For more information about the Bake It Happen campaign, visit their website.