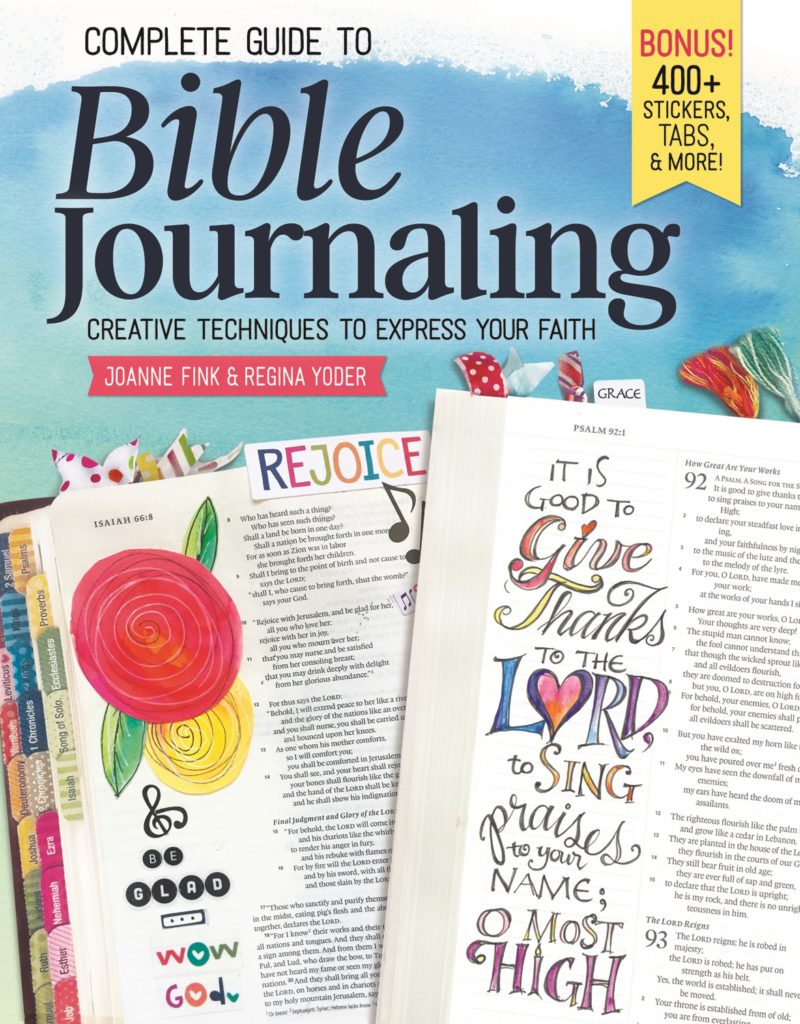 I've always believed that every person has a spiritual side. Some of us feel comfortable identifying with a particular religion, but there are many more who reject traditional methods of observance. In the Jewish community, it seems like people are disengaging left and right, in search of alternate ways to practice their faith.
If you hate performing rituals, never attend temple, and don't pray on a regular basis, but still yearn to grow spiritually, The Complete Guide to Bible Journaling should be on your book shelf.
By focusing on art, which is something most ladies enjoy, it's easy to explore the Bible in a less structured way. As someone who already has a strong faith, I liked reading the pages first, then going back and creating. For my sister, who is not religious at all, it was the opposite—she simply enjoyed coloring. Even though we're on different ends of the spectrum ideologically, we both had fun doodling, taking away different things from the experience.
With over 150 paper designs, 270 colored stickers, and 60 designs printed on translucent vellum, we sure had a lot to choose from! There is so much versatility, too, since the designs can be used like a regular coloring book, traced, used as Bible margin art, or as bookmarks.
The Complete Guide to Bible Journaling is divided into six sections:
Getting Started – How to begin and how to choose the best Bible for you
Tools and Techniques – 12 different methods, including page prep
Artist Profiles – Shares the individual stories of contributing Bible artists

Shanna Noel, Karla Dornacher, Valery Sjodin, Sephra Travers, Valerie Wieners-Massie, Rebecca Rios, Tai Bender, Krista Hamrick, Jennifer Rydin, Rebekah Jones and Christina Lowery

Gallery – Showcasing examples out of the Bible, in the Bible, and different styles
Resources – Artist websites, various social media groups, & other ways to connect
Bonus section – This was my favorite! It's filled with the tabs, stickers, traceable patterns and more.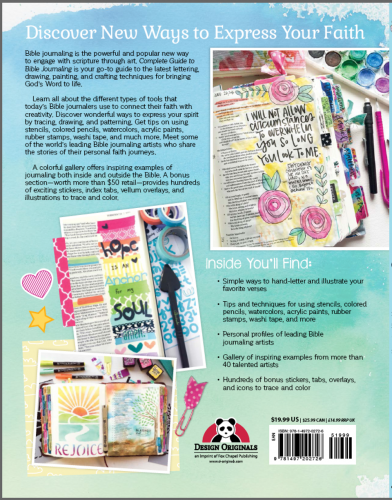 No matter which medium you prefer, this book has it covered: lettering, drawing, coloring, painting, embellishing, stamping, stenciling, and so much more. I don't have much artistic ability, but I sure know how to go wild with a box of Crayola!
The Complete Guide to Bible Journaling combines faith and creativity into one neat package with lots of appeal.