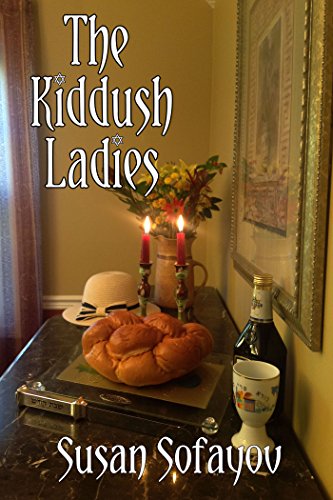 Throughout my life, no matter what I've struggled with, I've always been blessed with dear friends who comforted and supported me. Most ladies would agree that it's our female friendships, not our romantic relationships, that truly nurture and sustain us. Because those friendships are so vital, it can be devastating when they sour.
Author Susan Sofayov tackles this heartfelt topic in her new novel, The Kiddush Ladies. It centers on heroines Becky, Miriam, and Naomi—3 ladies whose shared faith and many years of camaraderie should've created an unbreakable bond. As each one endures her own difficulties, their lifelong friendship splinters: Naomi's husband has left her for a man; Becky's son wants to marry a Catholic girl; Miriam's upbringing as an only child leaves her unable to attain the close family connections she craves.
While all of the characters were multi-faceted and believable, Becky's story was the most interesting to me. Every Jewish mother has a fear (often kept secret) that their child will marry a Christian, that their grandchildren will become Christian, and generations of customs and beliefs will be lost forever. Becky's intense bewilderment and displeasure at her son's choice is portrayed very honestly.
While some may find The Kiddush Ladies to be slightly dark reading material, I enjoy "Chic Lit" about imperfect people, thrust into difficult situations not of their choosing, and seeing how they react—rightly or wrongly. This is not an uplifting book, but it will be relatable for most of us who have experienced the unexpected craziness that life has to offer.
In the end, we have to accept others as they are, not how we want them to be. That can be an exceptionally bitter pill to swallow, but nobody ever said friendship was perfect.