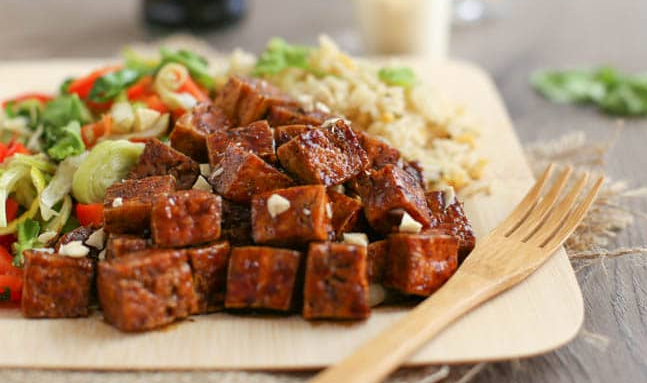 Do you save soy sauce for Chinese food? Some folks only try it while enjoying takeout, but there's no reason to stop there. It's actually quite a versatile condiment, good with fish, fruit, meat and more. Here are 25 creative ways to use soy sauce:
1. All purpose marinade – Soy sauce, scallions, lemon juice, and red pepper flakes.
2. Sweet and savory marinade – Soy sauce and brown sugar. A similar version is soy sauce and molasses.
3. Mustard marinade – Soy sauce, grainy mustard, garlic, and rosemary. Excellent for lamb chops.
4. Dipping batter – Add a few drops of soy sauce to liquid batter, then bread. it really enhances the flavor of fried chicken or fish.
5. Meatballs or meatloaf – Use soy sauce instead of salt.
6. Beef jerky – Marinate in soy sauce for a tasty treat.
7. Potato Salad – One teaspoon will make a huge difference.
8. Salsa or Pico De Gallo – Add a spoonful to balance acidity.
9. Burgers – Mix soy sauce, minced garlic, and minced onion into ground beef or turkey.
10. Pasta – Add soy sauce to cooking water before it boils.
11. Vegetarian – Add soy sauce to cooked lentils, black beans or tofu. Think you hate tofu? Try this honey soy version.
12. Grilled onions – Coat whole onion with soy sauce, wrap in foil and grill.
13. Soup – Try it in Chicken soup, French Onion, Tomato, or Mushroom.
14. Scrambled Eggs – Use soy sauce instead of Tabasco.
15. Baked potatoes – Rub it on the skin before baking or use as topping.
16. Rice patties – Mix soy sauce and leftover cooked rice, then fry into patties.
17. Raw veggie dip – Mix soy sauce and mayo to make a flavorful dip. This also works for French fries.
18. Macaroni and cheese – It may sound unusual, but it works great.
19. Gravy – Jazz up a bottle of jarred gravy or add to homemade.
20. Fruit salad – Mix soy sauce, honey, fresh ginger, and pineapple juice, then pour over fruit. Works wonderfully with peaches.
21. Salad dressings – Use in place of vinegar or lemon when making a homemade version.
22. Popcorn – Soy sauce can replace salt as a topping.
23. Wood chips – If you use these for grilling, try soaking first in soy sauce before cooking.
24. Poaching – Add soy sauce to the liquid before poaching fish. Very nice with salmon.
25. Fish sauce – Soy sauce, butter, and cream makes a lovely topping for white fish.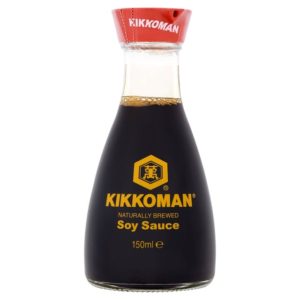 Do you like soy sauce?