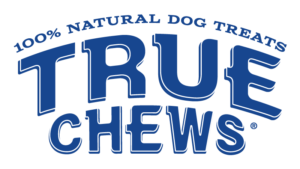 This post is sponsored by True Chews® Dog Treats and the BlogPaws® Pet Influencer Network™. I'm being compensated to help share information about the True Chews line of all-natural dog treats, but The Jewish Lady only shares information I feel is relevant to readers. All statements made reflect my true opinion of the product .True Chews is not responsible for the content of this article.
Anyone who is blessed to have a Chihuahua in their home knows how much joy, love, and laughter these little guys bring! I can't even begin to imagine how much duller life would be without Charlie. No matter what's going on, he always makes it better—probably because we love going on journeys together.
Recently, I planned out a full day of activities for us, starting at one of his favorite places in the whole world—PetSmart. He enjoys interacting with other dogs that we meet and I like going through the aisles and displays, checking out new clothes, toys, and foods.
Because Charlie is considered a special member of the family, as opposed to just a pet, I am very careful about only buying the highest quality products that are healthy and safe. That's why I was pleasantly surprised to find True Chews® Dog Treats.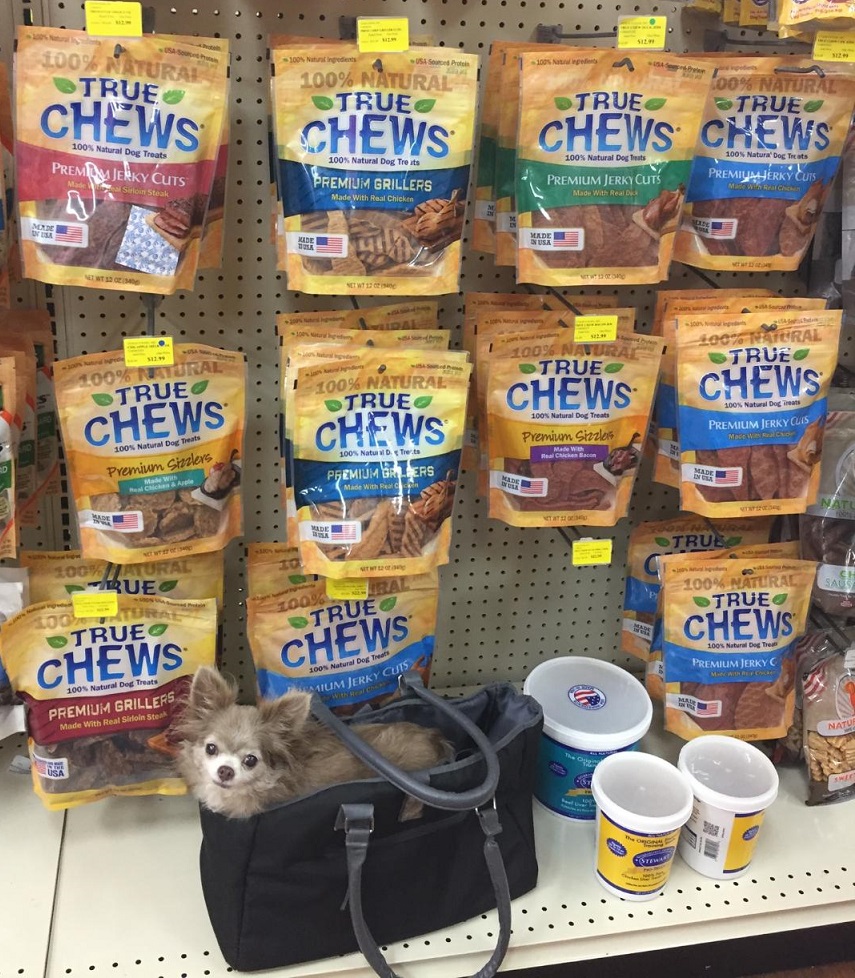 As you can see from this display, they have an enormous variety of treats to choose from. I carefully looked over the packages, making sure it was appropriate for my fur baby. It so awesome to find these great features:
No Corn, Wheat or Soy
No Artificial Flavors
No Artificial Preservatives
No Animal By‑Products
Natural Ingredients
USA-Sourced Chicken
Made in the USA (very important to because I avoid anything from China)
It was really hard to narrow it down, but I ended up with Chicken Pot Pie Recipe and Premium Jerky Cuts, so he could try two different flavors and textures. Then, we headed over to a Nature Preserve to walk and play in the warm sunshine.
Charlie is 14-years-old now and struggles with dental issues, so anything that's too hard will not work for him. I figured the Pot Pie would be okay, but I was really curious about the Jerky. I'm happy to report that it's thin, flexible, and easy to tear, which is perfect for senior dogs.
In addition to the excellent texture, he loved the taste, and ate one of each! Based on these hearty ingredients, it's no wonder:
Pot Pie: Chicken, Potatoes, Vegetable Glycerin, Peas, Carrots, Natural Flavors, Distilled Vinegar, Salt, Paprika.
Jerky: Chicken, Vegetable Glycerin, Natural Flavors, Distilled Vinegar, Salt, Natural Smoke Flavor, Paprika.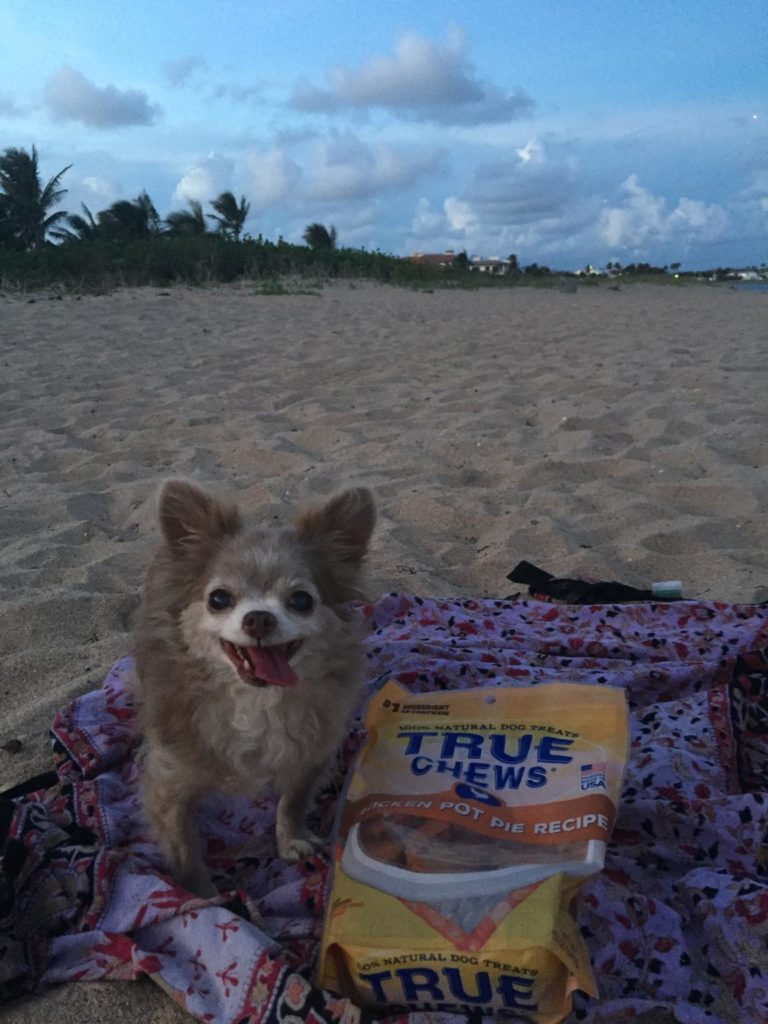 After two lovely hours, we went to our final journey at the beach. There is truly nothing nicer than sitting on a blanket at dusk, feeling a cool sea breeze and watching the waves. Charlie did get very sandy, but it was worth it to see the delight in his beautiful eyes.
Life's Journeys sure are better with a Chihuahua by my side. Since he is so amazing to me, I want to return the favor. Giving him True Chews Dog Treats is something we can both feel good about.
Want to get some True Chews for your fur baby? They're available at pet specialty stores, such as PetSmart, Petco, and Chewy.com, as well as neighborhood pet stores (they're not sold in grocery stores). Use their store locator to find them near you.
This is a sponsored conversation written by me on behalf of True Chews. The opinions and text are all mine.