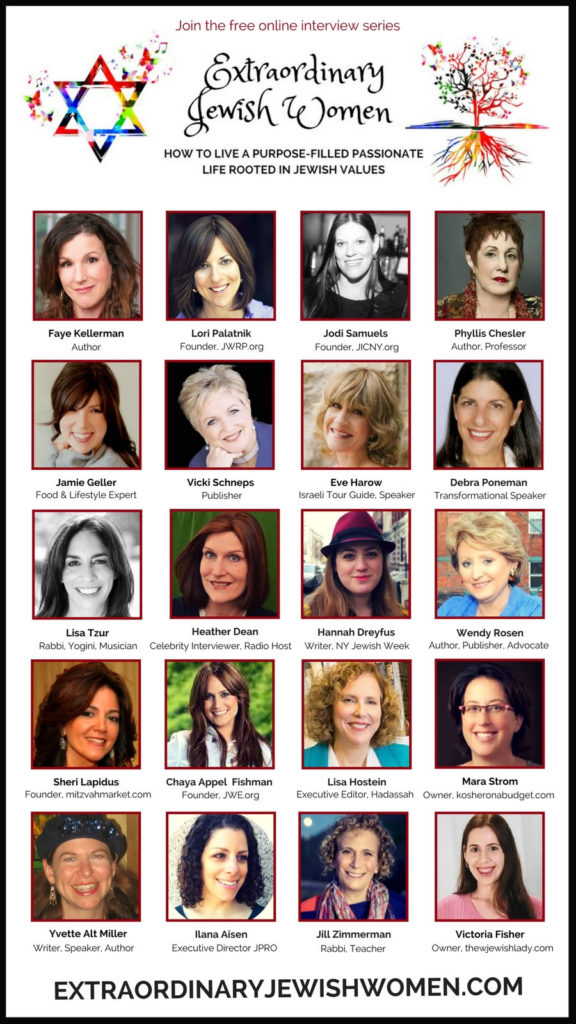 On February 19, 2018, an amazing new video series will begin. Extraordinary Jewish Women: How to Live a Purpose-Filled Passionate Life Rooted in Jewish Values features 20 ladies discussing their careers, Judaism, Israel, life lessons, and so much more.
The idea for this remarkable project came from my friend, Risa Borsykowsky. She is a talented artist, owner of the popular Judaica website Jewish Gift Place, and a well-known philanthropist who raised over $10,000 for the Holocaust Resource Center in Manhasset, NY. Her vision is to inspire others by learning the attitudes and behaviors of successful Jewish women and the role that Jewish values play in their lives.
The group includes a diverse range of fields—publishing, writing, entrepreneurship, blogging, Rabbis, motivational speakers, tour guides, community organizers, etc. Yours Truly was invited to participate and I am so honored! As you can see, I'm in very good company here:
Sheri Lapidus
Phyllis Chesler
Yvette Alt Miller
Heather Dean
Vicki Schneps
Eve Harow
Faye Kellerman
Wendy Rosen
Jamie Geller
Debra Poneman
Lisa Tzur
Jodi Samuels
Hannah Dreyfus
Lisa Hofstein
Chaya Appel Fishman
Lori Palatnik
Mara Strom
Jill Zimmerman
Ilana Aisen

The interview 30 minutes long and discusses how each one of us followed our hearts into a vocation we're passionate about, while staying grounded, giving back, and helping others. Watching the series is both uplifting and enlightening!
By signing up here, you will receive one interview delivered to your inbox daily. All of these ladies are informative and their stories inspired me tremendously. This is the type of project I love and even if I wasn't participating, I'd definitely be watching.