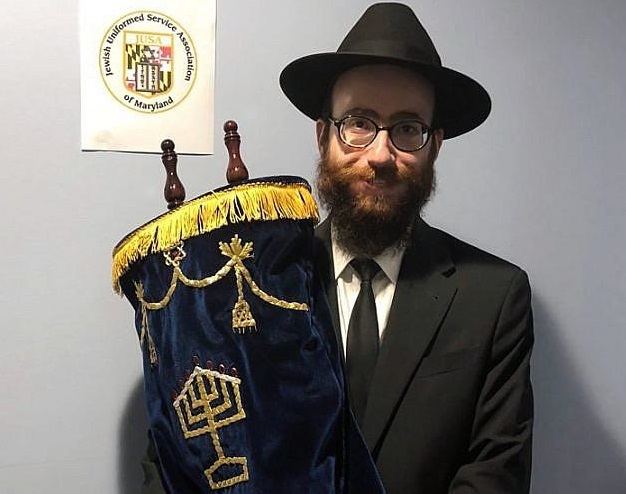 Rabbi Yechezkiel Tenenbaum is holding a very special Torah: it's the first one ever designated to honor the memory of a Jewish American soldier. Both the Torah itself, and the man who inspired it, have an interesting history.
The 75-year-old Torah originally resided in a Baltimore temple that has since disbanded. One of its former members, Michael Steininger, purchased it with the hope of dedicating it to his late brother, Martin, who served in Afghanistan and died at the age of 38.
Fixing the Torah would require considerable skill that came at a high cost. Help was provided by Beis Yisroel Torah Gemach, which repairs and lends Torahs to Chabad emissaries around the the world. (A "Gemach" is a free loan fund that assists Jews, financially and/or materially.)
Steininger was connected with Rabbi Tenenbaum, who is chaplain of the Maryland Defense Force. He provides spiritual guidance to Jewish military members, police officers, and firefighters.
In what can only be described as an amazing coincidence, Rabbi Tenenbaum requested a Torah at the same time that Steininger inquired about giving one. (Talk about a perfect match.)
The Torah that was inspired by Martin Steininger's memory, and was entrusted to Rabbi Tenenbaum's care, was used for the first time on Rosh Hashanah.
Stories like these make me so happy and show how divine intervention actually works. Most miracles, after all, are subtle, and if we don't pay attention, they're easily overlooked. Just beautiful!