This post contains affiliate links. I'll be compensated if you make a purchase after them. I was compensated for this post.
With spring on the way, most of us are getting ready to refresh our wardrobes. It's a season full of possibilities, after all, when the world looks and feels fresh. Gone are the heavy winter coats and boots, with brighter and lighter items needed. Clothes, of course, are a great way to express our individuality and many kids are surprisingly picky about what they wear. (This is not a battle I want to fight and will let the kids choose, within reason, what they prefer.)
Gymboree, the kids' clothing expert, understands. They've created a new campaign called "Follow Your Art" that lets kids express themselves with a colorful new line. By selecting just the right style, they can put their one-of-a-kind spin on an outfit that's both affordable and stylish.
Everything I've purchased has been extremely durable and usually will last long enough to be used by multiple kids. Casual playwear is what we need most, but the coordinated dressy looks, for holidays or special occasions, are also really nice.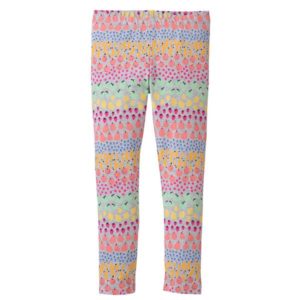 Right now, free shipping is available and lots of sales—$14.00 Dresses, $10.00 Denim, and $6.00 Tops and Shorts. The fruit leggings are my favorite, and there's much more at Gymboree with markdowns up to 70% off.