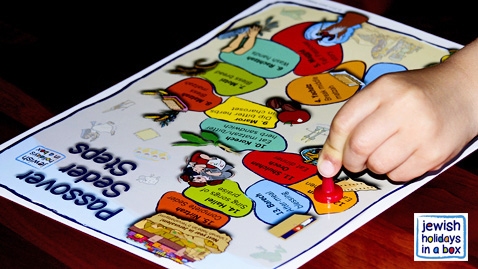 Passover can be a fun holiday for all ages, but sometimes the littlest attendees have trouble following along during the Haggadah reading. (Mine have been known to use the words "Long" and "Boring" to describe it!)
Growing up, we always had a standard Seder that was honestly quite stuffy. I experienced that same sense of boredom too, so I've tried hard as an adult to make it more engaging by incorporating kid-friendly elements into our celebration. Jewish Holidays in a Box has created a fun and clever game that works extremely well.
The Passover Seder Steps Follow-Along includes 5 boards and 5 playing pawns that will delight kids (and kids at heart). The easy to follow instructions make it suitable for those as young as 4, with big, bright pictures and fun challenges like hunting for baby Moses in a basket, frogs, etc. Having both the English and Hebrew is awesome!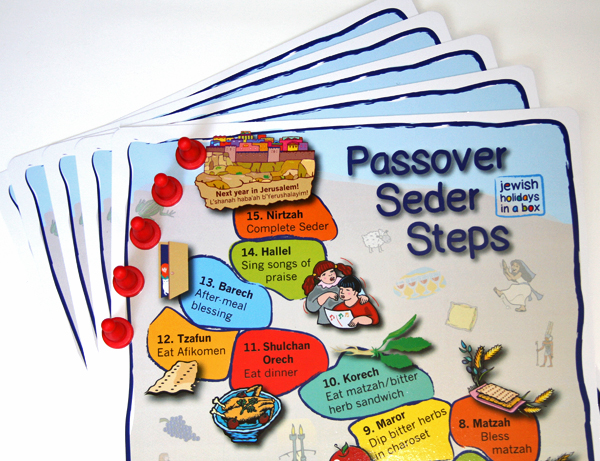 As we played the game, I noticed that the kids seemed to be more attentive and asked more questions than they usually do. My youngest, in particular, struggles with reading and is much more of a visual learner, so the game was definitely a hit.
I loved that I was able to teach Torah in a way that connected with them, on their level. As we moved the pawns through the stepping stones, reinforcing the perilous journey out of Egypt, it really seemed to click in their young minds what this incredible holiday symbolizes and why it's so significant for us as a Jewish People. (We had a similar experience watching The Ten Commandments on tv, so I'm sensing it's the visuals that make the best impact on youngsters.)
And, from a practical point of view that has nothing to do with religion, I must mention that the game boards are gloss coated. This is a BIG deal for me because we simply can not get through a meal without somebody—or multiple people!—spilling a drink or dish. As a test, I wet the boards with a bit of water and they didn't warp, stain, or become ruined at all. Perhaps this is because Jewish Holidays in a Box was created by a Jewish Mother and Grandmother who understands that kids can be hard on toys. (Yes, mine break everything!)
In addition to this lovely Passover activity, Jewish Holidays in a Box offers other guides, games, and bundles for Rosh Hashanah, Hanukkah, and Shabbos that are ideal for families and teachers.
We will certainly be trying more of them at my house!