Judaic jewelry tends towards the traditional. Most of us have more than a few Star and Hamsa necklaces in our collection. While I absolutely love those, I also enjoy more modern pieces, particularly custom creations.
Dangles by Orna are incredible. Each handmade piece is truly one of a kind, making it an ideal choice for ladies that have a ton of jewelry, but nothing "exciting" to wear! (Yes, I bemoan that constantly…)
Here are a few of my favorites, all of which are on the list for Mother's Day gifts: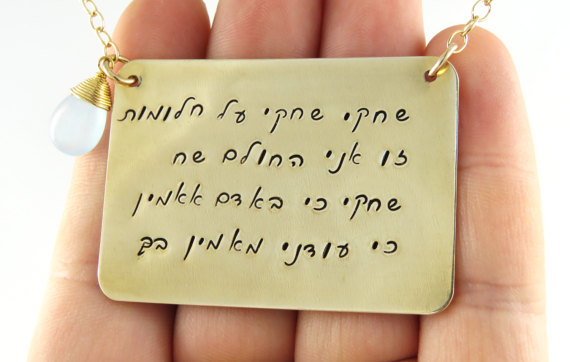 "I Believe" Statement Necklace
This hand stamped brass delight contains the first verse of Shaul Tchernichovsky's classic Hebrew poem. The wire wrapped light blue stone is very complimentary. A wonderful choice for those who like big, bold pieces.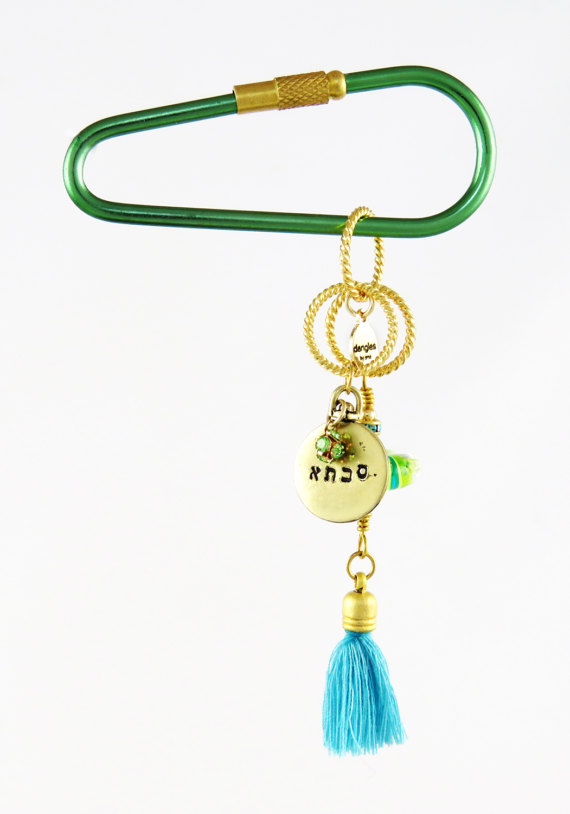 Designed to be carried as either a keyring or a handbag charm, this is a fun and fashionable accessory. The color combo of bright green clip and green/teal beadwork is so pretty. With a stamped swivel tag that says "Savta" (Hebrew for Grandmother), this would definitely be right for the special lady in your life. I immediately thought of my Mother-in-Law when I saw it, because green is her signature shade.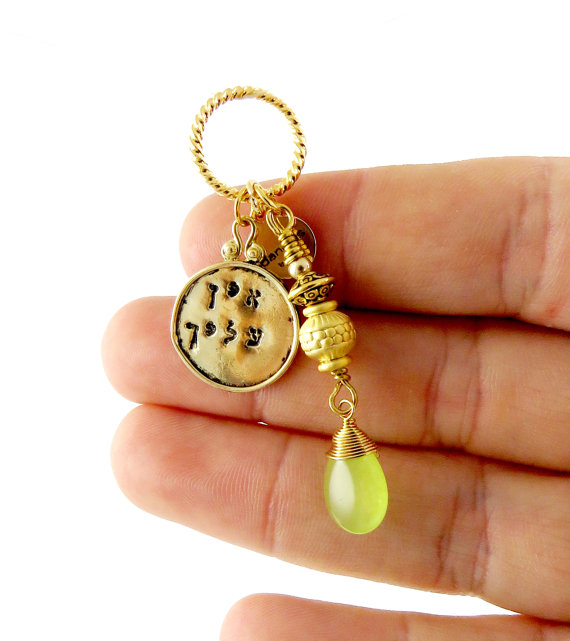 Suspended from a braided top ring, this customized charm includes a green teardrop, meticulously wrapped gold filled wire and a series of intricate gold plated beads. It can be worn on a necklace or added to a handbag or keyring. The translation means "No one tops you!" So adorable.
Many more jewelry designs are available at Dangles by Orna as well as needlepoint creations at Adorn by Orna.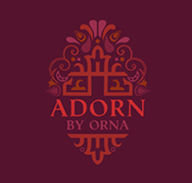 About the artist:
Orna Willis has always drawn inspiration from her surroundings. Born in Israel, Orna lived in Tel Aviv, the San Francisco Bay Area, Michigan and is now very happy to be living in Philadelphia. Her artistic point of view has been molded from the different cultures, climates, sounds and scenes of these places.
Her line of Judaic/Hebrew jewelry is a unique way of combining her love for creating jewelry along with her love of Israel.
"I create pieces made of a variety of metals, which are then stamped in Hebrew with segments of poetry, songs, and prayers. Next, they are embellished with stones, jewels and formed into necklaces, bracelets and other accessories. Each piece of jewelry comes with a story about the segment chosen which allows the wearer to connect with the words and their significance. Some of the pieces are stamped with segments from the Bible or prayers and some are segments of Modern Hebrew songs by well-known Israeli artists. I also offer custom services for names in Hebrew; the customer can supply their Hebrew name and a custom piece will be made for them."
In addition to creating beautiful art, Orna also enjoys
blogging
.