Imagine opening your front door and finding a gift from Israel waiting—just for you! A curated box filled with a variety of hand-picked goodies that you can eat, put on your skin, wear, and decorate with. Each item is natural, organic, kosher, and mostly handmade by skilled artisans and designers.
Sounds like heaven, right? Thankfully, this is an experience we can all enjoy, no matter where we live, courtesy of subscription company Mashu Mashu. And, best of all, the fun can continue indefinitely, with a new gift arriving every single month!
Mashu Mashu means "Something Special" in Hebrew and their products certainly live up to the name. Customers can choose their favorite from the 4 available box types: Mini, Basic, Advanced, and Lux. I was so excited to receive the January Advanced box to review. Because I wasn't sure what would be included inside, it made the contents extremely intriguing. I tore into my box like it was a Hanukkah present and found these incredible full sized items included:
Myrtl hair conditioner
Chocolate Mania candy
Fruit tea blend
Rosewood lip balm
Arugot body peel (salt scrub)
Pomegranate magnet
Apple honey dish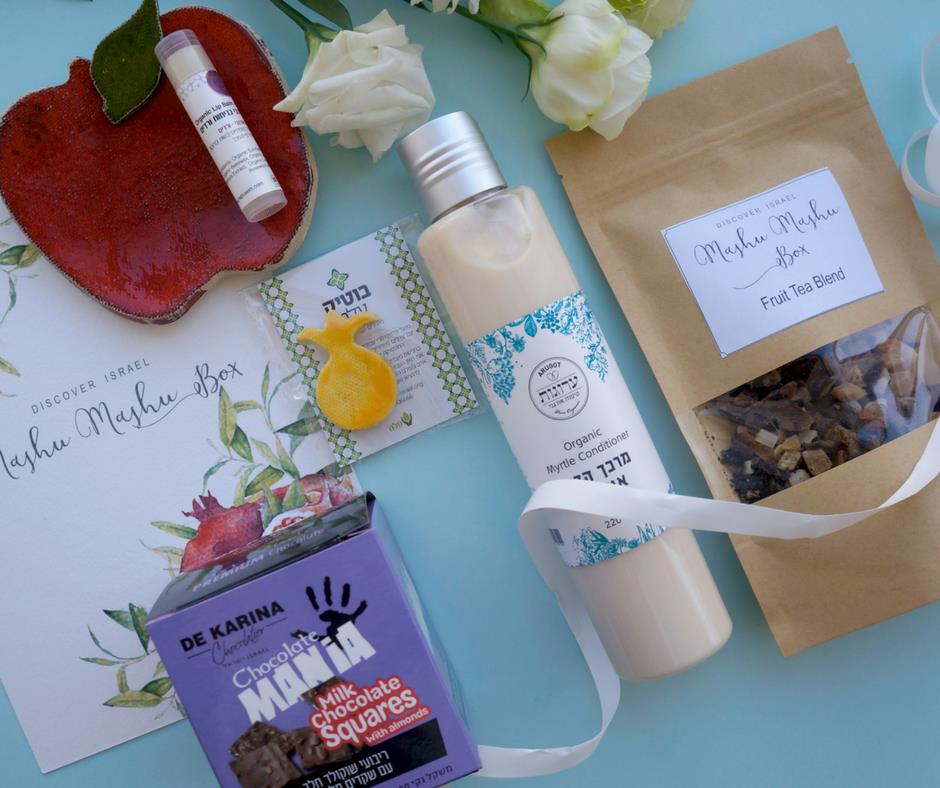 While I can honestly say that everything was to my liking, the fruit tea is one of the most unique products I've ever tried. Just as the name suggests, it's pieces of dried fruit mixed with loose leaf tea. The taste was rich and slightly sweet (so good that I drank 3 cups in one sitting).
The most heartwarming items were the apple dish and the fridge magnet. Handmade by ALEH residents (an incredible group that assists severely disabled Israeli children who need intensive, constant care), they are so cute. Seeing the fine artwork that was created by these courageous children is nothing short of a miracle and proof that no matter how challenged someone may seem to be, they are still a person with a lot to offer the world.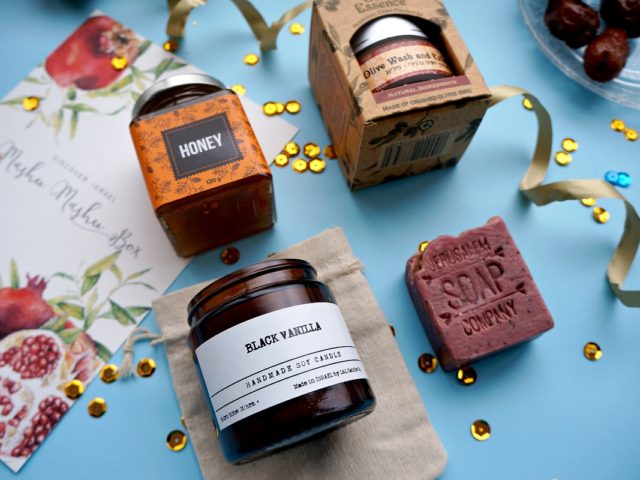 Want to experience Mashu Mashu for yourself? Enter the giveaway! One winner will receive a sample gift of the goodies pictured above that's truly "Israel in a Box."