Keeping a well-stocked pantry makes cooking not only less hectic, but also more exciting. (Bland food may fill you up, but it sure doesn't taste good.) While individual preferences do vary, there are certain items I have found to universally friendly. All of these are easy to find, inexpensive, and will be used almost daily. Here are my top 5 pantry items to always have available:
1. Olive Oil – Use it to cook, to make salad dressing, to make sauces, and for homemade beauty treatments. (One interesting thing I learned: Check the country of origin. If there are multiple countries listed, it may be a blend of many oils and should be avoided.
2. Garlic – Available in whole cloves, commercially cut, and dried, there's a form that will work for everyone, even if you barely cook. I love to add fresh garlic to almost anything savory like soup, salad, meats, sides, bread dipper, etc.
3. Lemon – I greatly prefer whole fruit to bottled juice, but both work. Try a dash in water or tea, add it to fish or chicken, squeeze over cooked or raw veggies, or use as a pretty garnish.
4. Salt & Pepper – Unless it's a dessert, nearly every recipe I feature will advise "Salt/Pepper to taste." Normally, I use regular non-iodized table salt, but there is a wide variety of coarse, kosher, colored, and flavored ones to choose from. For pepper, my top pick is the Black Peppercorn McCormick grinder, which are much fresher tasting than the pre-ground.
5. Cinnamon – This one might surprise people, but I use it daily in my coffee. (Add a tsp. while brewing for the best taste!) It's also great in oatmeal, baked goods, with chicken, and on whole or mashed sweet potatoes.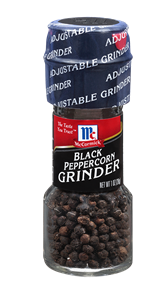 What is your #1 pantry ingredient?