While I enjoy learning about history, many books about the past are so incredibly dull and dry, it's nearly impossible to finish them. Weaving actual events into a story with engaging characters is much more entertaining. That's why I loved reading Dorah Blume's new novel Botticelli's Muse.
Botticelli's Muse is the first of a three-volume series that takes place in Italy during the 1400's. It focuses on Renaissance artist Sandro Botticelli, his association with the Medici family of Florence, and the woman at the heart of his paintings.
At that time, patrons would commission artists to create specific works. If an artist lost their patron, they could no longer support their art, so finding and keeping one was a big deal! Botticelli learns this firsthand when he falls out of favor with his patron and has to then work with another whom he doesn't care for that's only half his age. This difficult situation hurts his creativity.
During a visit to a convent where his sister is a nun, Botticelli finds a weaver, Floriana, who is being held as a captive. Her only crime? Refusing to denounce her Jewish faith! Captivated by her beauty, she becomes his muse and inspires his famous painting La Primavera.
Due to the turbulent political climate, near stranglehold of the Catholic church, and the intense personalities of the two lovers, their relationship is extremely rocky.
Sounds incredibly juicy, right? And it is! Not only are the characters depicted in an intensely detailed way, the writing itself is almost lyrical. One sentence that really sticks in my mind reads: "The young woman heard the cry of locusts pulsating in the scorched air." So amazingly vivid!
One would imagine that such a book would be difficult to write and I found the backstory to be almost as interesting. According to Dorah, Botticelli's Muse took her over 20 years to complete, with the original seed being planted all the way back in 1963 during a trip she took to Italy at age 19.
To accompany the novel, there are 5 free coloring pages available which are a lot of fun, too.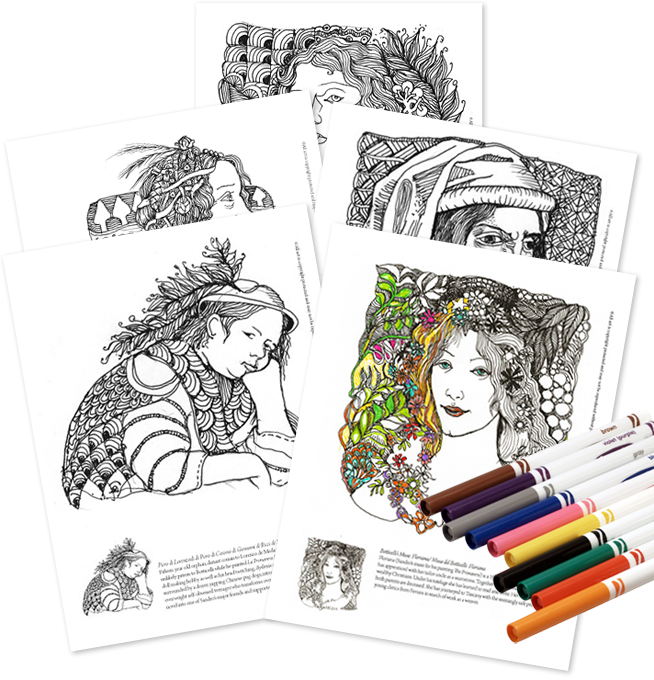 Anyone who enjoys historical fiction should definitely pick up a copy of Botticelli's Muse. Learn more about the book and connect with the author on her website.