I was compensated for this post. It contains affiliate links and I'll be compensated if you make a purchase after clicking them.
Do you love to make videos? Simplify the process with Animoto, a cool site that helps create professional videos on the web and on the go. Animoto has styles for every type of memorable occasion, like trips, holidays, life cycle events, and graduations. It can also be used for business.
There are two different products that Animoto offers, Slideshow videos and marketing videos. Slideshow videos, depending on your subscription, allow logos within video, as well as design-rich or premium styles to choose from. Marketing videos, depending on your subscription, allow logos, custom brand colors, advanced text control, voice-over, and pre-built storyboards.
Choose from a variety of templates, customize with 50 beautiful styles, and pick from over 1000 soundtracks within their music library.
Already have your photos online? Animoto can grab them from Facebook, Flickr, Photobucket, Picasa, SmugMug, or Instagram.
Ready to get started on your first video? Take advantage of a free 14-day trial.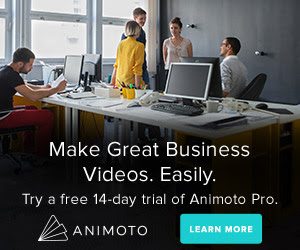 10% off annual business plans with code BUS10OFF at Animoto
10% off annual personal plans with code PER10OFF at Animoto
10% off annual photography plans with code PHO10OFF at Animoto