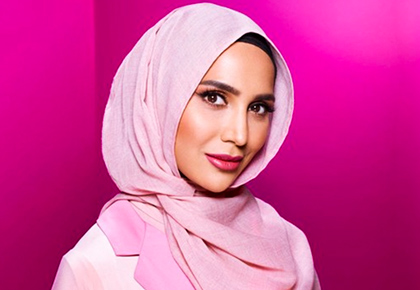 A controversial hijab-wearing blogger and model from the UK was hired—and now fired—by L'Oreal from an upcoming campaign.
Amena Khan, was forced to step down after vicious anti-Semitic tweets she made in 2014 surfaced. She now claims: "Championing diversity is one of my passions. I don't discriminate against anyone." (All lies!)
Her despicable views and pathetic apology aside, I find it incredibly odd that L'Oreal would feature someone wearing a head covering to sell hair care. The whole point of an ad is to showcase the product and hijabs make that impossible. You literally can't see a single strand in the publicity picture above! Hiring her to represent their makeup line instead would've been too logical, I guess, even though the makeup is clearly visible.
I don't know when this disconnection from reality first occurred, but it's getting overwhelming. Europe has a huge problem on their hands with a radical Muslim minority trying force their will on the entire population. If someone wants to wear a hijab, that's their right, but we shouldn't pretend it's normal behavior. There is nothing immodest or sinful about having beautiful hair and I refuse to cover mine.
Rather than pander, L'Oréal should use some common sense in the future. These types of publicity stunts always backfire.