It's been said many times that money is the number one cause of marital problems. Spouses who can't agree on money are less happy and may find themselves fighting often. If it gets bad enough, a divorce could result from constant disagreements and a lack of trust.
While I'm blessed to have open communication with my husband overall, money is an area we have definitely squabbled over, mainly because we have different attitudes; I am hyper-organized while he is very laidback. I like to look for sales, use coupons, and track spending. He, on the other hand, doesn't pay attention to prices, charges things constantly at full price, and often forgets to tell me what he buys.
This has become even more stressful right now with Tax Day. We have spent countless hours searching for receipts that were lost or misplaced. He feels badly about being disorganized and I get upset about the chaos. Clearly, we're not on the same page and we need to work on it.
We've tried annual budget meetings, reading books together, the envelope system and switching off on who actually pays the monthly bills. All of that worked great for the short term, but we could never stick to it for long. What we needed was a comprehensive system that would integrate our entire financial life in one place, with equal access. (I know his habits will not change, despite years of nagging and begging, so I've just accepted it.)
Onist, a new program designed to help families with their finances, was the answer to our prayers. They have developed a streamlined platform that securely connects in a way that's both easy to use and easy to understand. No more guesswork, no more filing cabinets, no more fights.
Start by setting up a free account, then add bank and brokerage information. Once linked, balances and daily transactions are updated automatically every day, making it so much more realistic to track spending and cash flow for both of us. We also have access to the bigger picture. Can you believe that before Onist we had no idea what our true net worth was? Crazy, I know, but probably really common! Better late than never and now that we know, we can do more to build a secure future.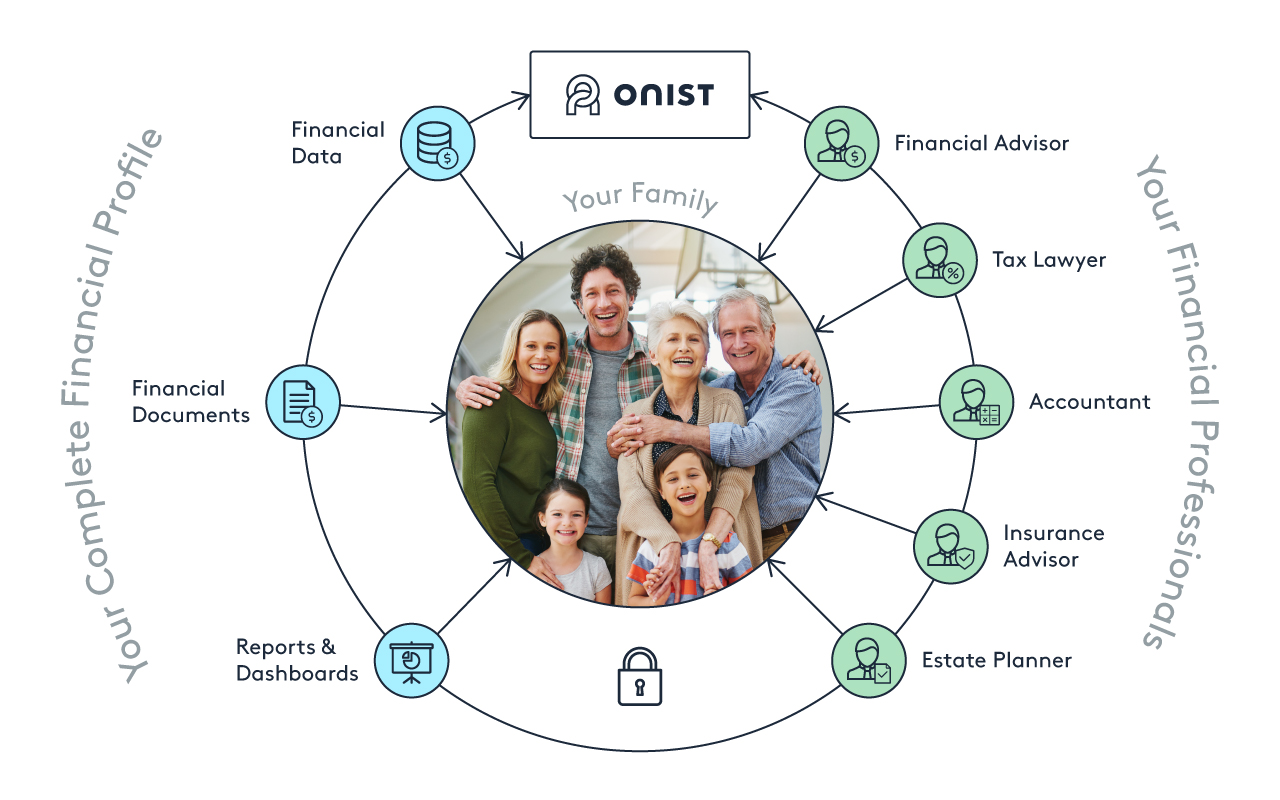 Another cool feature is the vault. This lets you upload important documents for insurance, wills, deeds, investments, etc. In addition to spouses, it can be shared with professionals like accountants and lawyers. You only have to share what and with whom you're comfortable; this is not an all-or-nothing system, everything can be customized.
For families with older children, involving them in the process, particularly once they become teens, will help them to develop fiscal responsibility and reasonable expectations about money—something that seems to be sorely lacking with youngsters.
Another area we're grappling with is aging parents. Because I've gone through the unexpected loss of a parent who was only 54, I can't stress enough how important it is to be prepared. While these conversations can be scary and uncomfortable, it is so much better than never discussing it and having to clean up a disaster after a death. At our urging, my in-laws, who both are in poor health, have agreed to set up an account for all 4 of us.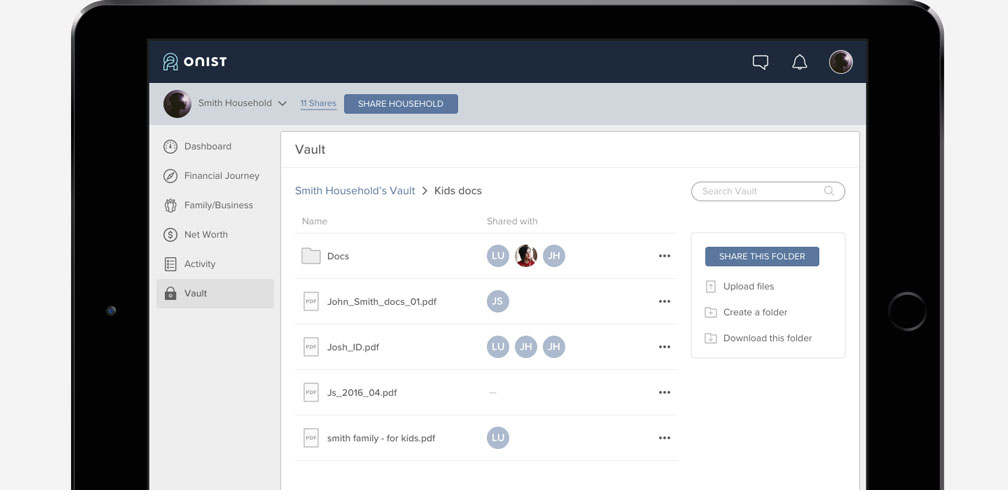 Of course, putting so much personal information out there raises the question of safety. Onist is committed to not only protecting privacy, but also ensuring that your data doesn't get hacked or sold; even their own employees don't have access. With 3 levels of encryption, de-identification, and a secure database and server, I feel peace of mind.
Financially collaborating and connecting as a family not only increases shalom in the home, it provides a deeper level of love and trust, knowing that we're all in this boat together and each of us must be part of the solution. Let Onist help you get on track; sign up for a free account today.