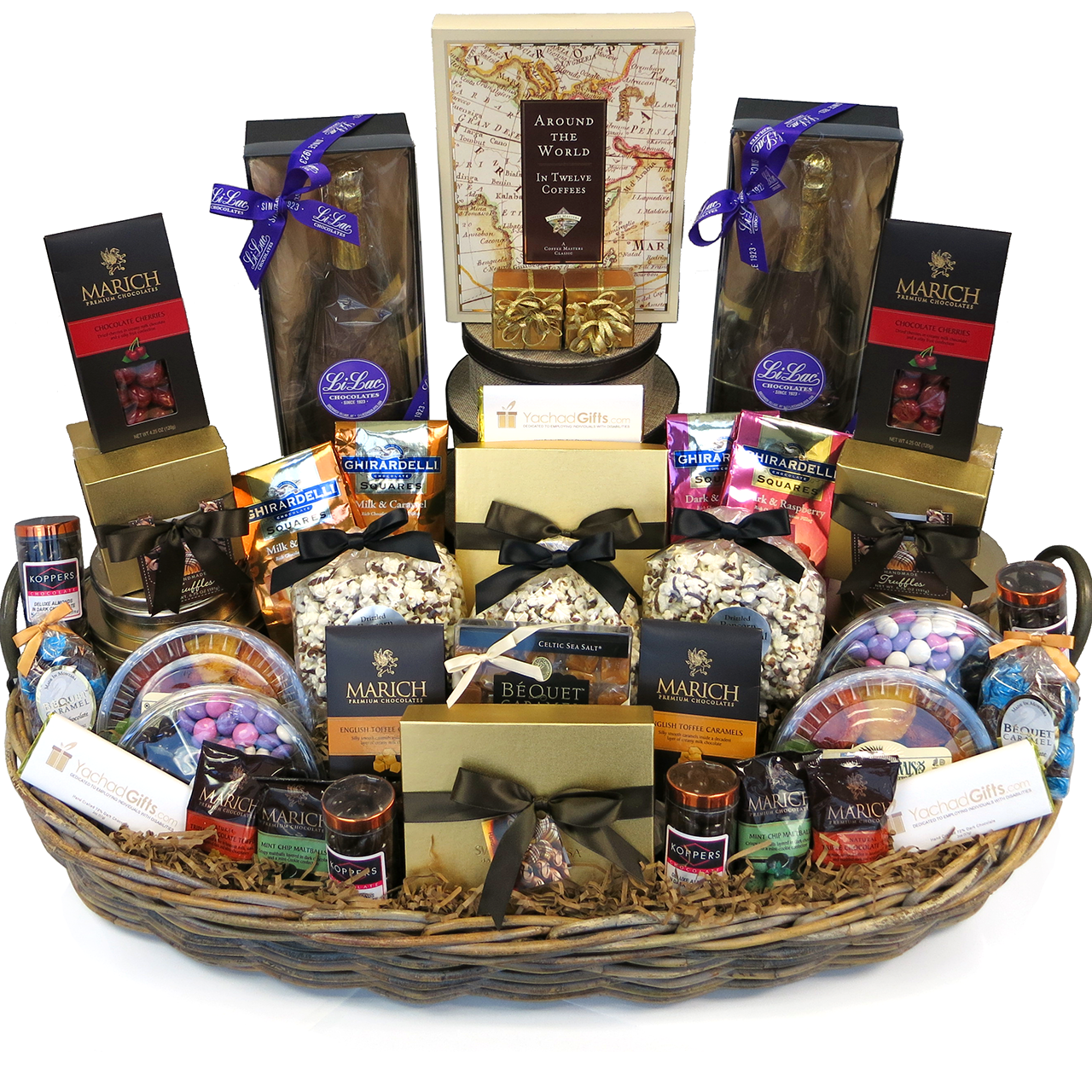 $1,000 for a Purim basket… No, it's not a joke, it's real. I've seen some expensive holiday gifts before, but this deserves a prize! How did I hear of such luxury, you may be asking? From a friend who lives in a very exclusive community in Westchester, NY. According to her, said basket was purchased in multiples by someone in her book group.
The list of included items is breathtaking:
12 Coffees
2 Champagne Bottles
Truffles
Chocolate Cherries
Chocolate Tubes
Mint, Chocolate and Caramel Balls
Mixed Nuts
Fudge
Gourmet Popcorn
Candy
Fruit
Peanut Clusters
Pretzels
The package alone weighs 50 pounds and could feed a small army, let alone a single soul!
Now, I truly don't care how another person spends their own money, but I do wonder if a $1,000 basket provides more joy than a $10.00 or $100.00 basket? From my own experience, I've never known anyone—especially a kid—to reject a gift based on cost. Normally, I just cobble together free or discounted candy purchased after Valentine's Day and a few cheapies special to the recipient. I wouldn't say my baskets are extravagant by any means, but they're always enjoyed!
There's no denying that we'd all love to be given a $1,000 gift on Purim or any other day of the year. Regardless, I'm sure that a lovely present can be made, no matter how small a budget may be, based on the creator's determination and ingenuity.
A celebration is not about money, after all! It's supposed to be about family, friends, faith, fun, and LOVE. Getting caught up in a social circle that only focuses on conspicuous consumption is not festive, it's empty. Gifts are great, but we should never feel obligated to spend, spend, spend because another person goes overboard.
Holidays are meant to be joyous, but should there be a limit on spending?