One of the easiest and most cost-effective ways to be stylish is by trying out new accessories. I love to wear jewelry daily, and necklaces are my favorite. I have quite a few in my collection, especially Judaic designs.
Ka Gold Jewelry takes the traditional designs we all know and love and makes them into something unique, using sacred geometry. Sacred geometry is a term which describes the geometrical laws which create everything in existence. Master Jeweler, David Weitzman, has spent many years studying Kabbalah, Egyptian wisdom, Judaism, Tibetan Buddhism and other concepts. His goal is to create jewelry that incorporates sacred symbols for healing, balance, and unity.
Because there are so many gorgeous designs to pick from, looking through their site is delightful. I wear gold mostly but I've been wanting to try something new in silver, so that narrowed it down a bit. Finding this beauty, that's supposed to bring the wearer a great feeling of self confidence, security, and balance, was a dream come true.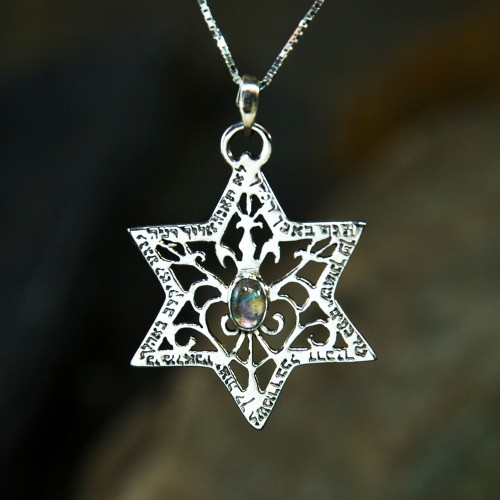 This silver Star of David pendant is engraved with a sentence from Psalm 91, along the outer edge, and has a lovely stone in the center. It can be customized by selecting your preferred stone and chain length/type. Since turquoise is my birthstone (December), that's what I picked.
Whenever I find something online, I'm always curious to see if I'll like it as much in person and my necklace didn't disappoint. It was super-shiny out of the box, smooth, and lightweight in feel without being flimsy. It's also much larger than a typical pendant, making it a standout piece that's quite eye catching.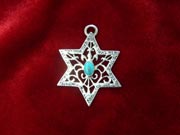 I've worn it three times since it arrived last week and it's great for day or night events. When I wore it to a beauty salon, the receptionist even commented on how pretty it was (love that!). I can see myself enjoying this necklace for years to come.
Ka Gold Jewelry has generously offered this exquisite necklace for a giveaway. There will be one winner and entries will be open until September 9. Good luck to all!
Which stone would you pick?